I am SO excited for you to visit Las Vegas!! 🙂
As a born & raised local, you can trust that I have crafted the perfect 3 days in Las Vegas! You will be getting the perfect balance of site seeing, partying activities, historic sights, and exploring the two famous areas of the city. Not only that, but I am detailing a few "must-pack" items, best area / hotels to stay, bonus ideas to extend your trip, and so much more!!
This weekend in Vegas itinerary is not going to be tailored to couples looking for a romantic get-a-way. It is filled with the most popular things in Vegas, which include day clubs and night clubs. Personally, if just my husband and I were traveling to a destination, the last place we would want to go is a club. If you feel the same, I would recommend my Best things to do in Vegas for couples guide instead! A lot more romantic ideas, great dinner spots, and fun bars!
This Las Vegas itinerary is going to be perfect for couple's trips and friends trips! So if that's you, keep reading! 🙂
As a Las Vegas born & raised local, I have borderline too many free guides on traveling to Las Vegas. Check them out below!!
There is a chance this guide contains affiliate links, which means I might make a small commission (at no extra cost to you) that goes towards little Rosie's dog treats!
Weekend in Vegas Itinerary Overview
Day 1: Brunch at the best spot on the Las Vegas Strip, a perfectly crafted walking tour to explore The Strip's best sites & nightlife recommendations!
Day 2: Day Club & my go-to bars on the Las Vegas strip!
Day 3: Explore downtown Las Vegas with the best rooftop bar in town!
+ TONS OF BONUS IDEAS FROM A LOCAL!!
Where to stay in Las Vegas?
There are so many great options on where to stay in Las Vegas, but the main two areas you will want to focus on are the Las Vegas Strip OR Downtown. These are both great options and is just going to depend on what you want to do while you're in Las Vegas and your budget.
Las Vegas Strip
The Las Vegas Strip is the flashy, modern, and epic nightlife scene you are probably wanting when you picture your 21st Birthday in Las Vegas. Along the strip is where you will find most the famous sites, best nightlife, and most crowds. With all this of course means most expensive! Staying on the Las Vegas strip you will be staying in luxurious hotels with expensive restaurants. If money is not a big issue, I would definitely recommend staying in the middle of all the action.
If you are wondering what is the Las Vegas strip, it is the area of Las Vegas Blvd between Sunset and Sahara. Past Sahara, you are in a worse part of town in between the Strip and Downtown.
Looking for an exact hotel? Here are my top picks per price range:
$$$: Encore or Wynn (connected), Waldorf Astoria, Bellagio, or Aria.
$$: MGM Grand, Mirage, Venetian, and Caesars.
$: Excalibur, Treasure Island, Luxor, or any Best Western type of property.
Hey you! Like how I edited this photo!? It was done in ONE CLICK using my Lightroom presets!
Downtown Las Vegas
Downtown is going to give you the best bang for your buck, not only on hotel prices but restaurant prices too. This area is old school, trendy, and attracts a younger and local crowd. If you want to wander the streets looking at street murals, going to trendy coffee shops and bar hopping, this is the area for you!
I LOVE downtown and spend a lot of time in this area as a local. The only downside is it is not walking distance from the Las Vegas strip, so if you plan to go to a lot of nightclubs and day clubs, you will need to take an Uber/Lyft. Luckily, Uber and Lyft are abundant in Las Vegas and you will have no problem getting one at any time of the night.
I think Downtown is a great option if you are looking to spend more money on your experiences rather than the hotel you are staying at. You will still get to be in a fun and lively area, walking distance from bars and restaurants!
Looking for an exact hotel? Here are my top picks per price range:
$$$: Circa or Golden Nugget
$$: Downtown Grand or The D
TIP: If you end up staying in Downtown Vegas, make sure you dedicate a night to bar hopping! Click here for a full guide on best bars in Downtown Las Vegas!
Best time to go to Las Vegas?
Anytime except for winter months are always going to be a good time. It is fairly warm in Las Vegas year-round, and extremely hot in the summer months. If you come in spring and fall (May & October specifically), you will get amazing weather (70-80 Degrees). The summer is extremely hot, but every hotel has a great pool and you can enjoy the day-clubs that are only open late spring – early fall.
If you travel to Las Vegas in the winter months, you will still have a great time, the only downside is you won't get to enjoy the day clubs. The benefits of coming is seeing all the holiday decorations and less crowds!
A Few "Must Pack" Items for this Las Vegas Itinerary – FROM A LOCAL!
Day 1: Exploring the Las Vegas Strip – My Favorite sites!
On your first day in Las Vegas, you will be getting to explore the Las Vegas Strip! The strip is about a 2.5 mile stretch in the middle of the city, home to insanely impressive resorts, unlimited gambling options, art installations, shopping, world-renowned restaurants, and TONS of photo opps!
I have lived in Las Vegas my entire life and am still attempting to see everything the Strip has to offer. There is simply not enough time in the world to see everything, but in this little walking guide, it will show you all my favorite highlights. 🙂
Start off your morning with brunch at Mon Ami Gabi. This French restaurant has a patio that is situated right on Las Vegas Boulevard, has a view of the Bellagio Fountains, and has a fantastic brunch menu! Keep in mind, they only have brunch on Fridays, Saturdays, and Sundays. You will want to make a reservation well in advance if you want to secure a spot on their patio!
After you are fueled up with brunch, its time to explore some of my favorite sites on the strip! Mon Ami Gabi is located at the The Paris Hotel. At this hotel, you can check out the Eiffel Tower replica & the Arc di Triumph replica.
TIP: Make sure you wear good walking shoes this day. There is SO much to explore and you could walk miles and not even notice since there is so much to keep you entertained! These are my favorite travel shoes because they look cute with jeans or a sundress and require no breaking in.
Across the street, you will find the beautiful Bellagio hotel! This is by far one of the most impressive hotels on the Las Vegas Strip and has been featured in countless movies. The Bellagio fountain schedule is every 30 minutes until 8pm and then every 15 minutes after 8pm. It is so impressive and an absolute must-see for your first time in Vegas!
After you watch the fountain show, head inside the Bellagio to check out their Bellagio conservatory. This is an indoor art installation made of real flowers. I really can't describe how impressive this is (really, then entire Bellagio Casino) and even if you have spent a weekend in Vegas before, I think it 100% worth going again because it changes every season and is never the same!
Even as a local, I constantly stop by the Bellagio Conservatory. It is one of the rare things on the Las Vegas strip that even the local's love to see!
If you head north down Las Vegas Blvd, the next hotel you will reach is the Caesars Palace Casino. Along Las Vegas Blvd, you will see the Trevi Fountain replica, beautiful sculptures and fountains, and the Colosseum replica! If you want to do a little bit of shopping, this is the perfect place to do so!
Right on Las Vegas Blvd there is an entrance to the Forum Shops at Caesars! If you are spending this weekend in Vegas during the summer months, this is a great break from the heat since this mall is indoors and air conditioned! 🙂
Last stop on the list is the Venetian Hotel & Casino! This is my all-time favorite hotel on the Las Vegas strip, and honestly there are so many amazing hotels it's impossible to choose. Saying the Venetian is my favorite really says something!
There is a beautiful lagoon that wraps on the inside and outside of the hotel, amazing Italian restaurants, and the entire property really makes it feel like you are walking the streets of Venice.
TIP: Make sure you get the best milkshakes EVER at the Black Tap Milkshake Bar right on the lagoon!
For dinner & nightlife recommendations, here are my top picks. But seriously, it's hard to go wrong in Las Vegas. The nightlife is 10/10!!
Restaurants:
Nightclubs:
Bars:
Day 2: Day Club and Piano bar at night
Are you hungover yet?
No? Good 😉
For day two it's time to get up and rally and head to one of the best day clubs in Las Vegas! If you are traveling to Las Vegas in the day club's summer months (March – September), you can do a traditional day club that is at one of the casino's pools. Day clubs and standard pool access are completely different though, let me make that clear!
My favorite day club in Las Vegas is Wet Republic. They always have the best DJ's, great atmosphere, always busy, and lots of cabanas and shaded areas. If you are traveling with a group, I would definitely recommend opting in for a table so you have a spot to hang out.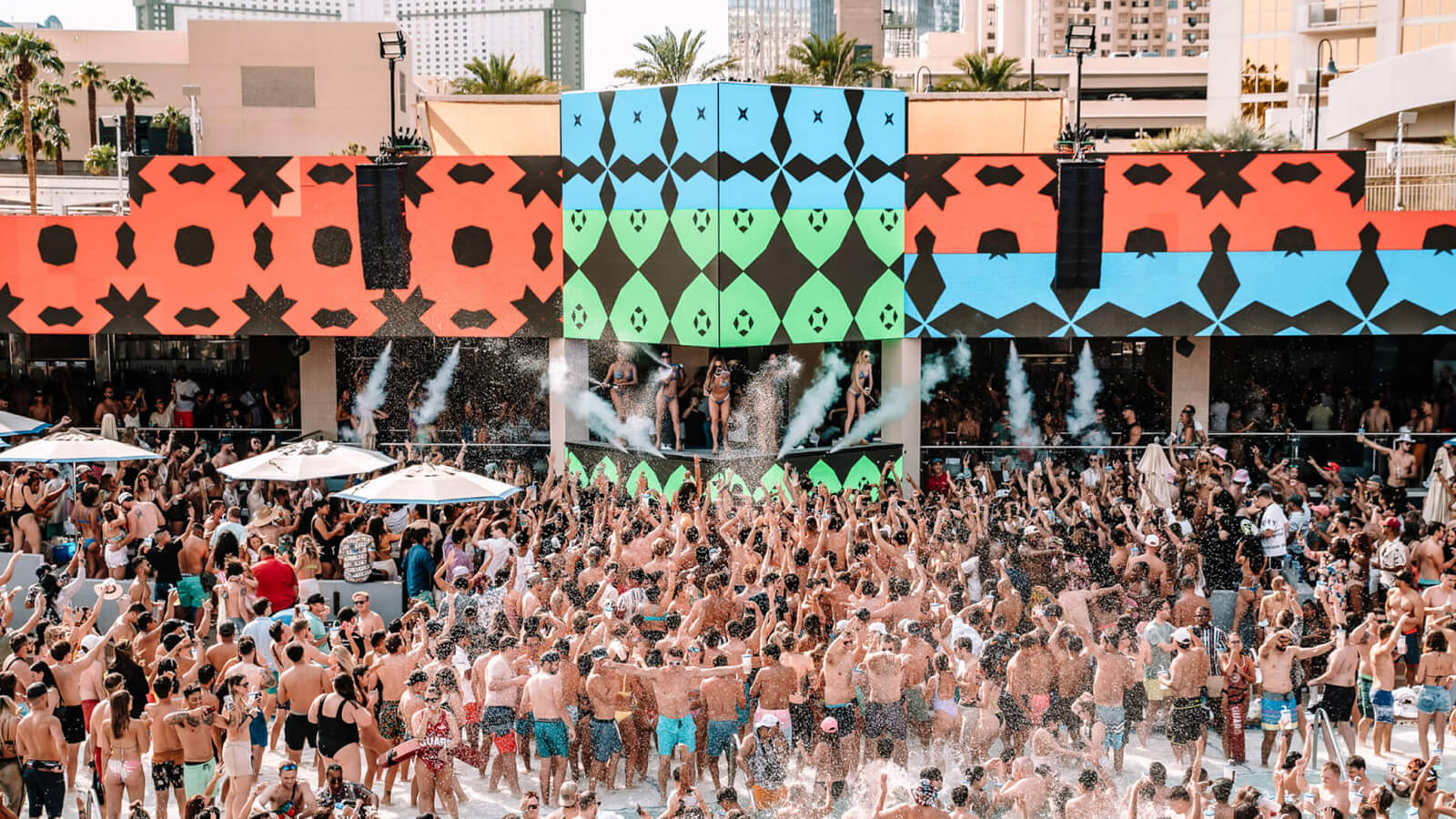 If you are traveling to Las Vegas during the offseason (October – February), you can either do one of the bonus ideas I listed at the bottom of this guide, or you can go to Lavo's Party Brunch. This "brunch" is a day club on the weekends that is completely indoors! They run this day club year round on Saturday's!
I LOVE Lavo's party brunch because they sit you at a table like a normal brunch where you can order food and drinks. Once you are done eating, they clear your table so you can dance right on your table!
After you are done partying all day, it's time for a much-needed afternoon nap, hangover dinner, and some options if you want to continue exploring the Las Vegas Strip! Again, here are my favorite recommendations for bars in Las Vegas:
Day 3: Neon Museum & Sunset drinks at Circa & Bar Hopping in Downtown Las Vegas
On your last and 3rd day in Vegas, it's time to head to my favorite area of Las Vegas, Downtown!
Downtown Las Vegas is SO much fun and gives you a taste of what old-school Vegas was like. In this area, you have amazing rooftop bars that overlook the Las Vegas strip, art districts with murals and art installations, fair prices, and of course.. the famous Fremont Street!
To start your day off, you will heading to one of the most unique sites in Las Vegas, The Neon Museum!
And before I lose ya.. I know what you're thinking. "Monique, I'm in Viva Las Vegas, why the heck would I want to go to a Museum?!"
Well my friend, first off, Vegas is very hard on the liver LOL. Give yourself a few hours break to do something non-drinking related. Two, this is a museum that is so unique and is one of my favorite things to recommend to people coming to Las Vegas! Just trust me, okay?!
This photo was edited with my one-click photo filters! Click here to check them out 🙂
The Neon Museum is located in Downtown Las Vegas and is the resting grounds / graveyard of all the old vintage sings from Las Vegas Hotels! It is so much fun to walk through the neon boneyard and spot all the old famous signs!
This museum usually only take an hour or two! If you want the best photos of the museum, try to go an hour or two before sunset! 🙂
Click here to check out ticket options!
Next up, watch the sunset at the best rooftop bar in Las Vegas!! The Legacy Club at the Circa Hotel is by far the best rooftop bar in Las Vegas. Because it is located in downtown, you get an unobstructed view of the Las Vegas Strip.
It used to be first come first serve, but now you must pay a $75 minimum per person if you want to go at sunset time. Personally, I think it's still worth it if you buy some drinks and dinner, but it's completely up to you! You can also go at night after the sun already sets and the minimum spend amount goes down to only $25.00!
NOTE: The Circa hotel is the one and only 21 and over casino in Las Vegas! You can not even step inside this casino unless you are over 21 years old. They ID at the door, and then you are free to explore. Just keep that in mind if you have someone in your group that is not 21 yet. 🙂
After you've watched the best sunset of your life and enjoyed some overly-priced but delicious cocktails, it's time to hit the bars in Downtown Las Vegas!
The atmosphere in downtown versus the strip feels like you are in a completely different city. The Strip is luxurious bars and over-the-top nightclubs while downtown is more trendy bars, not as busy, and filled with the locals! Here are my top 5 bars in Downtown Las Vegas:
If you want to skip the bars and just do a dinner instead, here are my top Recommendation in Downtown Las Vegas:
---
Bonus Ideas for extending your Weekend in Las Vegas
Las Vegas Q&A's
How to get around in Las Vegas?
Uber, Lyft, and Taxis are everywhere in Las Vegas! If you want to be fancy, there are also plenty of limo and private driving services to hire for your trip!
Is 3 days long enough in Las Vegas?
YES, absolutely!! Honestly, any more than a long weekend and I think your liver might give out LOL! 3 Days in Las Vegas is plenty of time to see all the best sites, get your party-on, and explore both famous areas of the city.
How would you spend a weekend in Vegas?
I would spread out my time between seeing everything Vegas has to offer! Spend a few hours gambling, drinking at the top bars and night clubs on the strip, exploring my favorite part of town; DOWNTOWN, and doing some unique sight seeing like the Neon Museum!
What is the best month to go to Las Vegas?
I would say Spring or Fall are the best months! The summer can be SO hot, but it is also when all the day clubs are in full-force. If day clubs aren't a priority for you, I would definitely aim to come with the weather is more pleasant, like October! 🙂
Does it get cold at night in Las Vegas?
It doesn't really get cold at night in Las Vegas unless you are coming in the winter months! Usually if anything, it is still very warm and you are still able to wear shorts and a tank top. The weather app is almost always accurate in Las Vegas since the weather is predictable!
---
Okay, that's a wrap! I hope this guide was borderline too informative! 😉 This weekend in Vegas is perfectly crafted so you can see all of the best sites in just 3 days. If you want to extend your 3 days in Vegas, be sure to check out my bonus ideas section above for more ideas!
Like I said before, I am a born & raised local of Las Vegas. I have SO many free guides to help you plan your trip. Of course, if you have any questions, don't hesitate to DM me on Instagram or leave a comment below so I can help out! 🙂
Still not done planning your Las Vegas itinerary? Be sure to check out these guides:
Thanks so much for stopping by! Like this guide? Pin it here!