Oh Scottsdale, my home away from home! Living so close in Las Vegas, I love spending weekend trips to Scottsdale with my husband!
We have done just about every romantic-like thing to do in Scottsdale, so what better person to create the PERFECT list of things to do in Scottsdale for couples?!
Before I dive into this unique list of couple-related activities in Scottsdale, I'm going to give my top tips on where to stay & a few "must-pack" items for this specific itinerary!
Prefer reading this guide in an itinerary style format? I have a perfect weekend in Scottsdale itinerary that lists all of these activities in an easy-to-read, 3 Day itinerary!
There's a chance this free guide contains affiliate links. This means, if you make a purchase through one of these links, I might make a small commission (at no extra cost to you) that goes towards little Rosie's dog treats! This partnership was also in paid collaboration with Experience Scottsdale, but all thoughts and opinions are 100% my own!
Where to stay in Scottsdale (After many trips, this is my favorite!)
I have been to Scottsdale a few times now and overall my favorite stay was by far the Mountain Shadows Resort Scottsdale. The views around the property, short course golf course right on property, beautiful pool, fantastic restaurant & bar, and spacious rooms made our stay perfect!
I really loved how you are close to Old Town Scottsdale, but just outside of it so you get the beautiful Camelback mountain views and quietness! It definitely has a more romantic feel than other in-town locations!
And the best part.. they have daily events & workout classes making it feel more like a retreat than just a standard hotel experience! Click here to book your stay!
TIP: Experience Scottsdale has launched a summer campaign called "It's that hot" which promotes early morning and indoor activities and LOWER hotel rates for the summer season. When the temps rise, rates drop! If you are looking for a more affordable hotel rate, aim to stay in their summer months! 🙂
"Must Pack" Items for this Itinerary!
I never want to bore you with a long packing list, so I always just include a few "must-pack" items for this specific trip!
Sun Block Packets & Best Face Sunblock Out There!!
These little babies are a godsend! The Sun Block Packets are the size of a little ketchup packet and can easily be put in your pocket or purse. I usually use these to re-apply sunblock throughout the day on my neck and shoulders, but not my face because I don't want to break out. For my face, I ALWAYS use SuperGloop Tinted CC Sun Screen. It has never made me breakout and gives you a little glowy look! 🙂
DUH, of course you need a good set of presets so you can quickly edit on the go! Lucky for you, I have a wide selection of presets that you can choose from starting at only $3.49 per pack!! Click here to check them out 🙂
A Good (and cute) Pair of Walking Shoes
You will be doing a TON of walking in Scottsdale, especially if you are following this list of things to do in Scottsdale! If you trust me on anything, you need to trust me on these shoes. These are the ONLY shoes I bring on my travels because they are cute and SO comfortable. You don't need to break them in (literally feels like you are just wearing socks) and they are not bulky! These can be worn with leggings, a sun dress, jeans.. whatever you want! Click here to check them out!
Guys… Arizona is HOT. This portable fan has saved me time and time again for hot destinations where you are doing a lot of walking outside! It is small enough to fit in a small purse and the battery lasts forever!! Click here for the one I use!
Best Things to do in Scottsdale for Couples
1. Sunrise Hot Air Balloon Ride
My first hot air balloon ride ever was in Scottsdale and WOW was that a memorable place to do it! Flying over the Arizona desert, seeing the Saguaro cacti from above, and watching the sunrise over the mountains was something I will never forget.
We chose the best hot air balloon company in town, Hot Air Expeditions, and they made us feel incredibly safe and at ease during our first flight. Since the flight area is pretty north of Scottsdale and they offer champagne after the flight, it was SO nice that they included round trip transportation to / from your hotel for only a small fee!
In the winters, you can choose between a sunrise OR sunset flight and in the summers they only allow a sunrise flight. We opted in for a sunrise flight, which was unbelievably peaceful and such a fun way to start the day! 🙂
Click here to book your Hot Air Balloon Flight!
TIP: Request Jonathan for your pilot! He was seriously the BEST and we were so lucky! He has not only been flying balloons for his entire life, but he also races them in his free time and has incredible control over a pretty uncontrollable thing!
2. Drink cocktails out of mini watermelons at Farm & Craft
I have been to Scottsdale 3 times now and every single time Farm & Craft makes it on the itinerary. It is seriously THAT good.
They serve their signature cocktail in a mini watermelon and let me tell ya… I am a PICKY cocktail drinker and if I am ordering more than one of a specialty cocktail, its gotta be GOOD!
Usually specialty cocktails, especially ones with a pretty presentation, are usually way too sweet / sickening! These are made with fresh watermelon juice and mint and are unbelievably refreshing.
Farm & Craft has options for healthy & unhealthy, so if you're a couple like Joseph and I where Joseph always wants unhealthy and I always want healthy… this is the perfect spot for you too! 😉
3. Float down Salt River with Salt River Tubing
This is WAY too much fun. Floating down the salt river made me seriously consider packing up my entire life and moving to Scottsdale. Having this as an option to do on your weekends is such a dream!
Just 45 minutes outside of the city is Salt River Tubing where you can rent inner-tubes & coolers to float down the river. The river is constantly flowing, so it just feels like you are relaxing down a lazy river! Plus, there's wild horses that walk down to the river to drink some water and you almost always get to spot them! 🙂
TIP: Get there early because the lines to get the inner tubes and to board the shuttles can get pretty backed up and you have to wait in the sun!
Take a break from the heat and wander the Wonderspaces Interactive Art Show
I have to be honest… Joseph & I are not usually big art people. Not that we have anything against art, but we just don't know enough about it to truly appreciate it! Whenever we go to an art exhibit we always feel like frauds, ha!
BUT, going to an interactive art show is an entirely different ballgame. We truly had so much fun and it was the perfect activity to take a break from the hot desert heat!
The Wonderspaces art show is located at the Scottsdale Fashion Square Mall, so you can hit two birds with one stone! The Fashion Square Mall is a gigantic mall with over 200 amazing shops to check out!
If you love Wonderspaces as much as we did, you can make it a goal to visit all of their many other locations across the USA like Austin, San Diego, and more!
4. Explore Old Town Scottsdale
Old Town Scottsdale is Scottsdale's main area & what is known as their downtown area.. AKA the area you want to check out!
You can tell the difference between what is considered "Old Town" vs. "new town" by how tall or short the buildings are. In the main Old Town areas, you will quickly notice how low and western the buildings will look!
Joseph and I spent a good amount of time in this area exploring all of the shops, listening to live music at restaurants, and walking the historic sites. What I love about Scottsdale is that this area didn't only have touristy gift shops but actually really cute boutiques! There were tons of local's in the area as well!
5. Go to the most "Insta-Worthy" Restaurant in Scottsdale: Diego Pops!
Everything about Diego Pops just screams picturesque! Imagine pink neon signs, adorable patio with greenery, fun & unique cocktails, and delicious shareables!
Diego Pops is located right in the heart of Old Town and is such a fun lunch spot! Even in the summer when its hot out, they have tons of shade and misters on their patio.
TIP: They have happy hour EVERY DAY from 3-6PM!
6. Try some local wine at The Wine Collective
Did you know that Scottsdale has a wine trail?! Arizona actually has a few wine regions and these local wine shops let you try a variety of Arizona wines!
We went to a few of them, and our all time favorite was The Wine Collective because they had the largest selection of Arizona local wines to try!
Pssst.. this was recommended on my Weekend in Scottsdale Itinerary!
Click here for a list of the wineries on the Scottsdale Wine Trail!
& Click here for a Scottsdale wine trail map!
7. Watch the sunset at Desert Botanical Garden
You will see a TON of saguaro cacti all over Arizona, but there's nothing like walking through walkways of almost 100 year old cacti at the Desert Botanical Garden!
Located only 10 minutes from Old Town Scottsdale you can explore the expansive Desert Botanical Garden. There are many walking paths to explore, but for the pictures below make sure you don't miss the Sonoran Desert Trail Loop! Here is the map of the trails throughout the garden!
TIP: Try to go an hour or two before sunset so it isn't as hot and your photos have a beautiful golden glow! 🙂
8. Golf at Mountain Shadows Short Course
Happy husband happy life! That's the saying, right?
Lucky for you ladies, there is a par 3 "short course" at the Mountain Shadows Resort Scottsdale! So you can make your man happy with a morning tee time, beautiful desert views, and you can cheer him on and only have to sit through a few hours of golf! 😉
In all seriousness though, I actually don't mind golfing, especially when the course has this great of views! You are right up to the bright red Camelback mountain for majority of the course and it looks like a postcard!
Click here to book your tee time, they book up fast!!
9. Get your Gelato Fix with JoyRidesAZ
JoyRidesAZ is a local mom & pop business where the owners will be the ones doing your tour! They offer all kinds of tours like Old Town Gelato tour (the one we chose), wine bar hopping tour, tacos & margaritas.. you name it, they can do it!
It was so sweet to see someone so passionate about the history of Old Town Scottdale, made sure he made close relations with just about everyone in town, and provided so many recommendations for fun things to do after our tour. We had a blast!
Click here to book the same tour I did!
10. Relax by the Pool
It's no secret that Arizona is HOT most of the year! I think if you are traveling to Scottsdale you NEED to stay at a resort that has a pool to cool off from the heat!
If you take my advice to stay at the Mountain Shadows Resort Scottsdale, they have a beautiful pool where you can rent cabanas and order food / drinks from their outdoor bar! Plus, the views of Camelback mountain aren't the worst thing! 😉
TIP: If you are trying to create a perfect list of things to do in Scottsdale for couples, you should aim to include at least a few relaxing activities like a few hours at the pool, spa treatment, etc.! Nothing kills romance like stress! 😉
11. Dine at "THE SPOT" in Scottsdale: The Mission Old Town
The Mission in Old Town is one of the most famous and historical restaurants in the city. To get a reservation at dinner time you will definitely want to make sure you make a reservation in advance!
They are known for their tableside guacamole.. which, wow. Still dreaming about it! Order it with a tequila flight and you're in for the perfect pairing! 😉
Click here to make a reservation at The Mission!
TIP: Make sure you make a reservation for your dinners & lunches because Scottsdale is busy on weekends! There are a lot of weddings, bachelorette parties, and birthday big parties so the restaurants fill up fast!
12. Visit a modern Tiki bar for unique cocktails at HULA's
HULA's Modern Tiki is located right in Old Town Scottsdale and is a modern tiki bar! We were actually so surprised by the food, it was one of (if not THE) favorite meal of our trip!
Plus, their unique specialty cocktails were OUTSTANDING! I usually don't like tiki bar cocktails because they are usually way too sweet, but these were delicious!
Click here to make a reservation!
13. Take a day trip to Sedona
Didn't get enough desert views in Scottsdale? Well my friend, less than 2 hours away you can get even more impressive views in Sedona!
This vibrant red desert oasis is so close to Scottsdale and if you have the time, totally worth the day trip! There are tons of hikes to do, a small wine region, boutique shopping, and beautiful golf resorts.
If you want, you can do a tour that will drive you to Sedona, take you around the area, and take you back so you don't have to worry about driving. Click here to see tours that depart from Scottsdale!
Be sure to check out my One Day in Sedona itinerary here!
14. Spend the day at the Spa
What more of a romantic thing to do in Scottsdale than go to the spa? Lucky for you, the Mountain Shadows Resort Scottsdale (where I stayed) offers in-room massages!
If you want to go to more of a traditional spa experience, click here for a list of the best spa & wellness experiences in the Scottsdale area!
TIP: Be sure to book a spa appointment right when you land or the next morning to get rid of that plane stiffness and start your romantic weekend off right!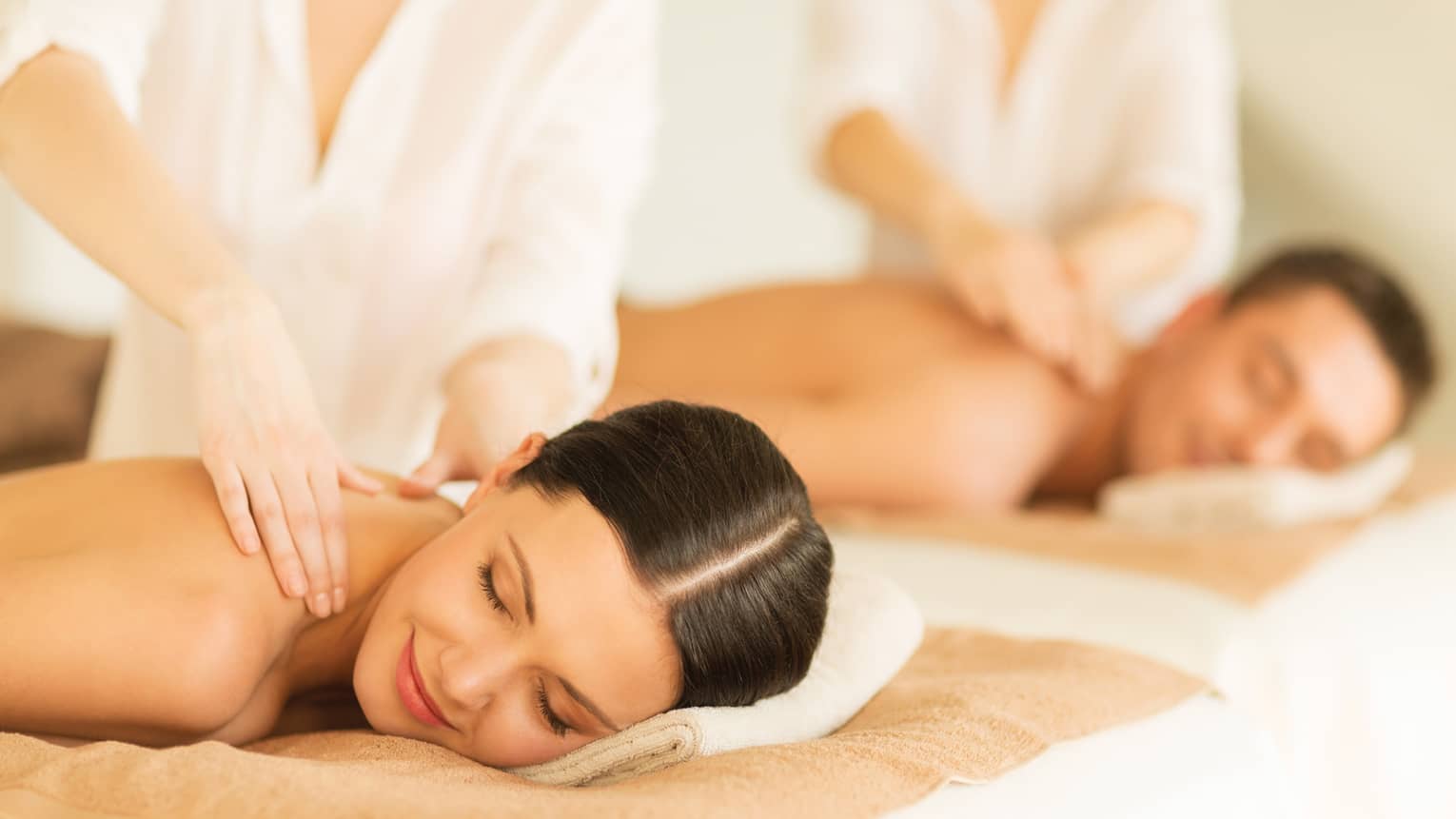 15. Sonoran Desert Jeep Sunset Tour
Want to get out of the bustling city to see the quiet and peaceful desert? This jeep tour departs from Scottsdale and will take you to catch one of those beautiful desert sunsets in the Tonto National Forest!
---
Okay, that's a wrap!
Scottsdale is the perfect romantic weekend destination because you get beautiful desert scenery, great sunny weather, trendy cocktail bars, top quality restaurants, romantic resorts, and tons of activities to do!
I have been to Scottsdale countless times since I live so close in Las Vegas, and every time I visit I get just that much closer to packing up my things and moving there! 😉
I hope this list of 15 things to do in Scottsdale for couples helps you plan your perfect romantic getaway, I would love to hear all about your trip in the comments!
Traveling to Arizona? Here are some guides I think you would love!
Thanks so much for stopping by!
Like this guide? Pin it here!