YOU ARE GOING TO LOVE COSTA RICA! 🙂
Costa Rica has been on my bucket list for way too long and is a destination that exceeded all expectations! During my 10 days in Costa Rica, I split my time between adventuring in the jungle in La Fortuna and relaxing along the coast in Las Catalinas.
And honestly… I can't recommend my exact itinerary enough!
Costa Rica has such different sides to such a small country, and splitting your time between the jungle and the coast really gives you a good taste of what this beautiful country has to offer. Get ready to spend 5 days zip lining, horseback riding through rivers, hiking to waterfalls, and seeing wildlife to the drastic difference of the gorgeous coast where you can watch the sunset over the black sand beaches, snorkel in protected coves, and RELAX! 🙂
Before we dive into the 10 day Costa Rica itinerary, let's go over 5 important tips I wish I knew before traveling to Costa Rica & 5 "must-pack" items for this specific trip!
There's a chance this free guide contains affiliate links. This means that I may make a small commission (at no extra cost to you) that goes towards little Rosie's dog treats!
5 Important Tips to Know Before traveling to Costa Rica
The weather is extremely unreliable! I am the type of person whose mood is greatly affected by the weather. If it's a cloudy and rainy day out, I feel like my day is wasted! Well, you have to just learn to roll with the punches and make the most of what you got in Costa Rica! It rains almost every single day, and depending on the area, it can rain very hard and for several hours!
In La Fortuna, you

need

a rain jacket. I have no idea why I didn't think to bring a light rain jacket to a rainforest.. but don't make the same mistake I did, HA! 😉 Click here for an inexpensive and light rain jacket to throw in your bag!
The water is clean to drink in Costa Rica! I would still recommend starting out slow with your tap water intake, because there are a lot of minerals in their water in comparison to the USA. This can cause an upset stomach!!
If you plan on renting a car and driving in Costa Rica, just be very careful. There are dirt roads with heavy rainstorms, large potholes, narrow roads with fast driving locals, limited service, etc. I personally hired a driver and boy was I glad I did! If you are extremely comfortable driving in the rain and being able to replace a flat tire, then I would say you should be fine though! There are ubers & taxis everywhere to easily get around if you decide to not get a car.
Most of Costa Rica is very Americanized when it comes to money. You can pay with most major credit cards and pay with American dollars for most tips, tours, etc. If you want to pay with the local currency, which I always think is more fun, they accept Colons.
10 Day Costa Rica Itinerary Overview
Day 1: Arrive in Costa Rica, drive to La Fortuna (with a hidden waterfall on the way)!
Day 2: Explore La Fortuna: Famous Sloth Walking Trail, Hanging Bridge Park & More…
Day 3: Adventure Day: Waterfall hike & Ziplining in La Fortuna!
Day 4: Tubing & Horseback Riding at the Club Rio River!
Day 5: Springs Resort Hot Spring Day Pass!
Day 6: Drive to Las Catalinas, Sunset dinner at the best spot in town!
Day 7: Walking Trail, Black sand beach, explore the town.
Day 8: Day trip to Tamarindo, a lively beach town nearby!
Day 9: Catamaran Snorkeling Cruise to hidden coves!
Day 10: Travel back to Liberia 🙁
5 "Must-Pack" Items for Costa Rica
I never want to bore you with a long packing list, but always like to include what I think are absolute, MUST PACK items for this specific itinerary!
10 Days in Costa Rica
Okay, are you ready for the best Costa Rica itinerary EVER?! 😉 Here we go..
Day 1: Arrive in Costa Rica, drive to La Fortuna (with a hidden waterfall on the way)!
For this itinerary, I would highly recommend flying into Liberia Airport (if possible). It will save you a bit of time on the long drive to La Fortuna, the airport is far less busy, and the drive is a lot less windy / more scenic! Plus, for the second half of this itinerary, you will be very close to the Liberia airport to fly home, so it will cut down your overall travel time by a lot!
After you fly into Liberia airport, you can either rent a car and drive to La Fortuna, or you can opt in for a shuttle or private driver. My husband and I used a private driver to get us to La Fortuna, which was really nice because you have plenty of room to stretch out and can stop anywhere you would like that's on the way. I shopped a lot of different companies and Costa Rica Trip Guide was by FAR the most cost effective option!
The drive is going to be around 3 hours depending on the rain and traffic. I will say, the roads were pretty windy, narrow, and the extremely heavy rains can come out of no where. I would only recommend driving yourself if you are a very confident driver, especially in the heavy rains.
TIP: If it isn't raining on your drive, ask your driver to make a stop at Bagaces Waterfall! It is right on the way, only a 0.2 mile round trip & flat "hike," and leads you to a beautiful waterfall! It was torrentially pouring while we were driving so we sadly had to skip it, but it looked beautiful!!
La Fortuna town is home to two active volcanos, natural hot springs dotting the area, luxurious hot spring resorts, wildlife anywhere you look, and of course, waterfalls! On a clear day (which is rare in La Fortuna), you can see the full volcano from town.
If you don't have a car and got a driver to take you to La Fortuna from the airport, you can get around town by Ubers or Taxis! Ubers were MUCH cheaper than Taxis, but wouldn't always accept short rides, so it was hit or miss! I would recommend trying Uber's first and if you can't connect with one, just ask the hotel or restaurant you are at to call you a taxi. 🙂
Once you arrive, check into your hotel and head to town to explore. I think to get the full experience in La Fortuna, you need to stay at a hot spring resort! There are super fancy ones like The Springs Resort (where the Kardashians stay) or Tabacon Resort, which you may never want to leave the resort, ha!
For me, I wanted a nice experience, thermal pools, and to be close to town! My husband and I chose the Royal Corin Hot Spring Resort, which was only 10 minutes from town and had the most beautiful grounds!! It's a newer hotel, so the rooms are very upgraded and the restaurants were phenomenal.
Plus, the service was 10/10! Instead of walking up to the counter to check in, they seat you on a comfy couch, bring you a cool towel, welcome drink and bring the check in process to you! It was such a great touch, especially since its such a long travel day to get there!
For dinner, I think you should reward yourself for making it through such a long travel day with the BEST restaurant in town.. Don Rufino! I was extremely surprised how great the food scene was in La Fortuna, and Don Rufino was at the top of that list. This restaurant is the main "fine dining" restaurant in town, and it was delicious!!
If you want to keep going, here are the top bars in downtown La Fortuna:
Day 2: Relaxing day in La Fortuna – See Bogarin Trail & Mistico Hanging Bridges
Your first full day in paradise!
I always like to plan a pretty relaxing & go-with-the-flow type of day after a travel day. Travel days are exhausting and the thought of waking up early for a scheduled tour just never sounds fun to me, ha!
The hotel I stayed at (The Royal Corin) came with free breakfast in the morning, but if yours doesn't, there are a few really yummy Acai Bowl places in town called Jungle Bowls and Organico Fortuna!
After you have some breakfast, time to hit the Bogarin Trail to see some sloths! This extremely flat and scenic walking trail is located right in the downtown area and home to many sloths. I would definitely opt in to paying for a guide so you can (almost) guarantee a sloth sighting. These guides know where the slots like to hang out and can spot them from pretty far away!
TIP: The Bogarin Trail is CASH ONLY! Make sure you bring enough cash to pay either the entrance fee or the guided tour fee!! Click here for their current pricing.
While you're still in downtown, you grab some traditional Costa Rican food, which is called "Soda." You will see so many restaurants named "Soda ___." This pretty much means mom & pop local food! The best Soda in town (from all the locals I asked) is Soda La Hormiga.
After you've had a relaxing morning and hopefully a few sloth sightings, it's time to head a little bit out of the downtown area to Mistico Hanging Bridges.
This series of hanging bridges takes you through a winding 2.5 mile trail through the rainforest and over 5 large suspension bridges. These bridges cross over deep canyons, creeks, and give you incredible views of the rainforest! Just make sure you bring your bug spray!! 😉 You can purchase your tickets in advance here!
pssst.. like how all these photos were edited? They were edited in ONE CLICK using my presets!
For dinner, I would recommend eating at the best sushi joint in town, Kappa Sushi. They had the most fresh sushi and beautiful presentations. Ours came on a totally "instagrammable" sushi boat! If sushi isn't your thing, there are so many other amazing spots in town like Anch'io (Italian), Restaurante Y Pizzeria, or Snappers House (seafood).
Day 3: Adventure Day! La Fortuna Waterfall hike & Zip Lining Tour
Time for an Adventure filled day! That's why you traveled all this way, right?! 😉
Wake up with the sun and head to La Fortuna Waterfall. This is by far the biggest attraction in town, which is why I recommend waking up early to beat some of the crowds! The ticketing station opens at 7:30AM, and it's very close to town.
Unfortunately, when I arrived, they told us the currents are too strong to swim in the actual waterfall. Some of the locals said it's like that most days now, so don't feel discouraged if you get the same news I did.
With that being said, it is still 1000% worth the hike to see it. The hike is ultimately 530 stairs straight down to the waterfall, which means you will be taking those stairs right back up, ha! It is a very short and steep hike, so just be prepared to take some breaks on your way back up!
Even if the swimming is closed, you can still climb along the lava rocks to get close to the waterfall. At first I was a little bummed that we couldn't swim in the actual waterfall, but when I saw how hard the waterfall was gushing down and how strong the current down the stream was, I understood why it was obviously not safe to swim.
It started pouring rain once we got to the waterfall, but I honestly think that made it all the more magical! I think it might have tricked my brain into thinking I did actually swim in the pool, ha! 🙂
The waterfall hike should only take you roughly an hour to an hour and a half to do, it's very short to get down, maybe 10-15 minutes. To get back up, it will take roughly double the time if you factor in a break or two.
Once you are done hiking, time to relax a little at your hotel pool! If you opted in for a hot spring style resort, you have to take some time to enjoy the beautiful pools, saunas, steam rooms and jacuzzis! If you follow my advice and stay at the Royal Corin like I did, it has a swim up bar as well! 🙂
For your afternoon adventure, I can't recommend enough doing a zipline tour. I have ziplined in many other destinations, but Costa Rica BY FAR takes the cake. I wish I brought my gopro to show you the insane views, but you will just have to take my word for it.
If you do a zipline tour in Costa Rica, you must do Arenal Mundo Adventura. They have the best spot in the park where you zipline over massive canyons and waterfalls (including the famous La Fortuna Waterfall). I have never seen anything like it in my life. Plus, they pick you up from your hotel for free! Click here to book your tour!!
TIP: I booked the 1:30PM tour, which lasted about an hour and a half. 🙂
Day 4: Springs Resort Activities – Dinner at Anch'io.
Every blogger and influencer said to spend the day at the Tabacon Resort, which don't get me wrong.. it looks incredibly scenic! BUT, after reading into it, the day pass is crazy expensive (over $100 USD per person) and all there is to do is hangout at the hot spring pool and eat at their restaurant.. which you also have to pay for.
Another extremely popular hot spring resort is called The Springs Resort (where the literal Kardashian's stay). They have this amazing package where you get two adventure tours from the Club Rio Adventure Center, lunch, and a two day pass to the springs resort for only $125 per person (as of February 2023). To me, that is some serious "bang for your buck!"
I genuinely can't tell you how great the Club Rio Adventure Center is at The Springs Resort. There is a large area at the base of the river with endless natural hot springs, a restaurant with a full bar, cornhole & ping pong tables, sunchairs by the river, and endless options for tour options. I could've spent my entire trip right there on that river!
With the package I was mentioning, you can pick two packages from the Club Rio Adventure Center. Some of the many tours they offer are horseback riding through the river, rock climbing, tubing, white water rafting, wildlife feeding & more!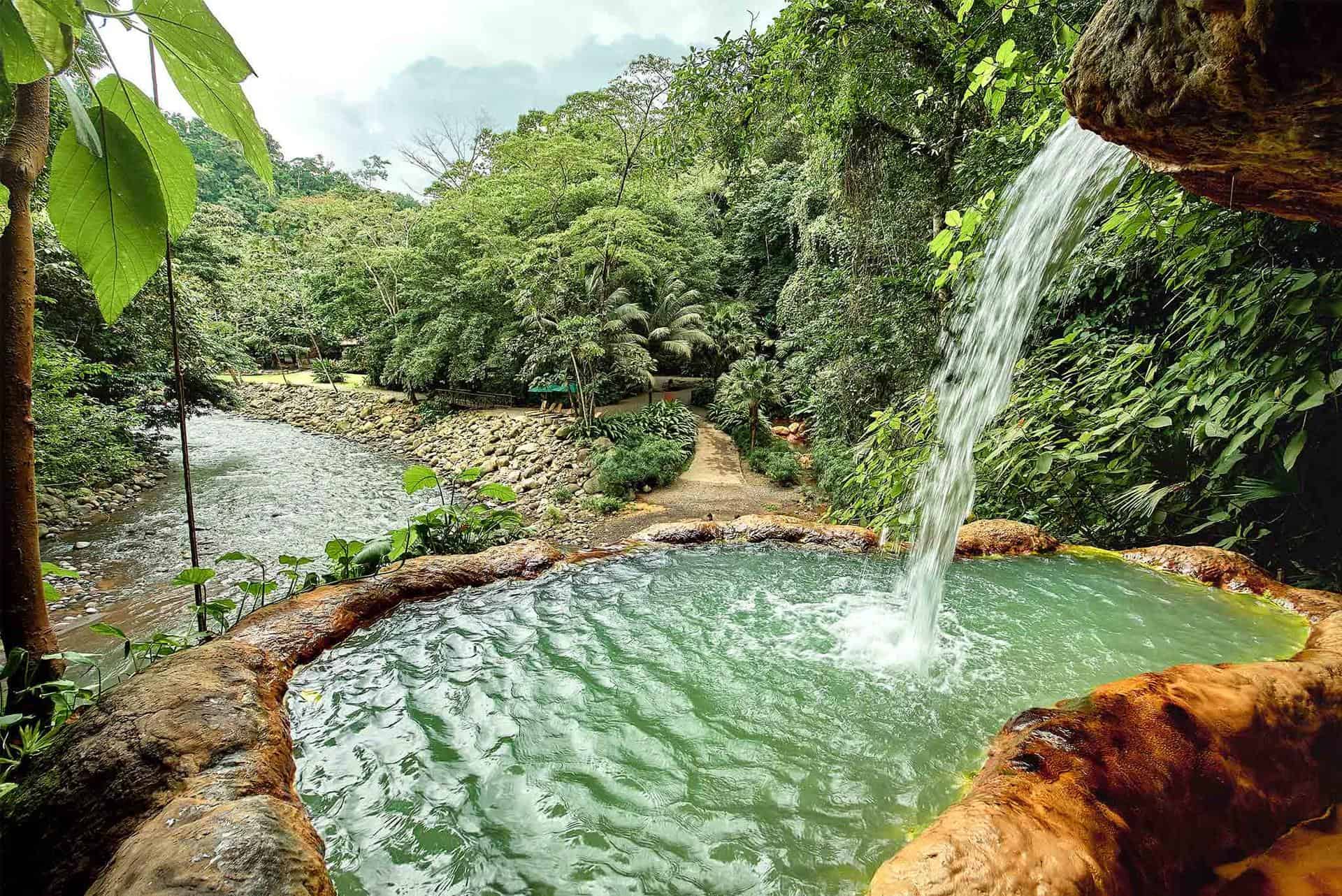 I would recommend spending one full day at the Club Rio Adventure Center to do the excursions, relax in the natural hot springs, and enjoy the river views. On your second day of the pass, I would plan to relax at the resort for the day (more on that tomorrow).
For dinner, here are a few options to check out:
Day 5: Springs Resort Pool & Grounds – Dinner at Springs Resort!
On your second day of your two day pass, you can relax at The Springs Resort and enjoy their outstanding property! This place is MASSIVE with tons of restaurants and bars, multi-level hot spring pools, mini-golf, swim up bars, billiards lounge, game room, & more.
I would plan to get to the resort fairly early because you might have to work around the weather a bit. The weather was very moody when we were there, and had to spend quite a lot of time at the bar inside when the rain would start up.. not complaining!! 😉
At the Springs Resort, there is are multiple bars and restaurants to choose from to eat lunch & dinner at. My husband and I LOVED the sushi bar that was right next to the hot springs pool. It was SO good!!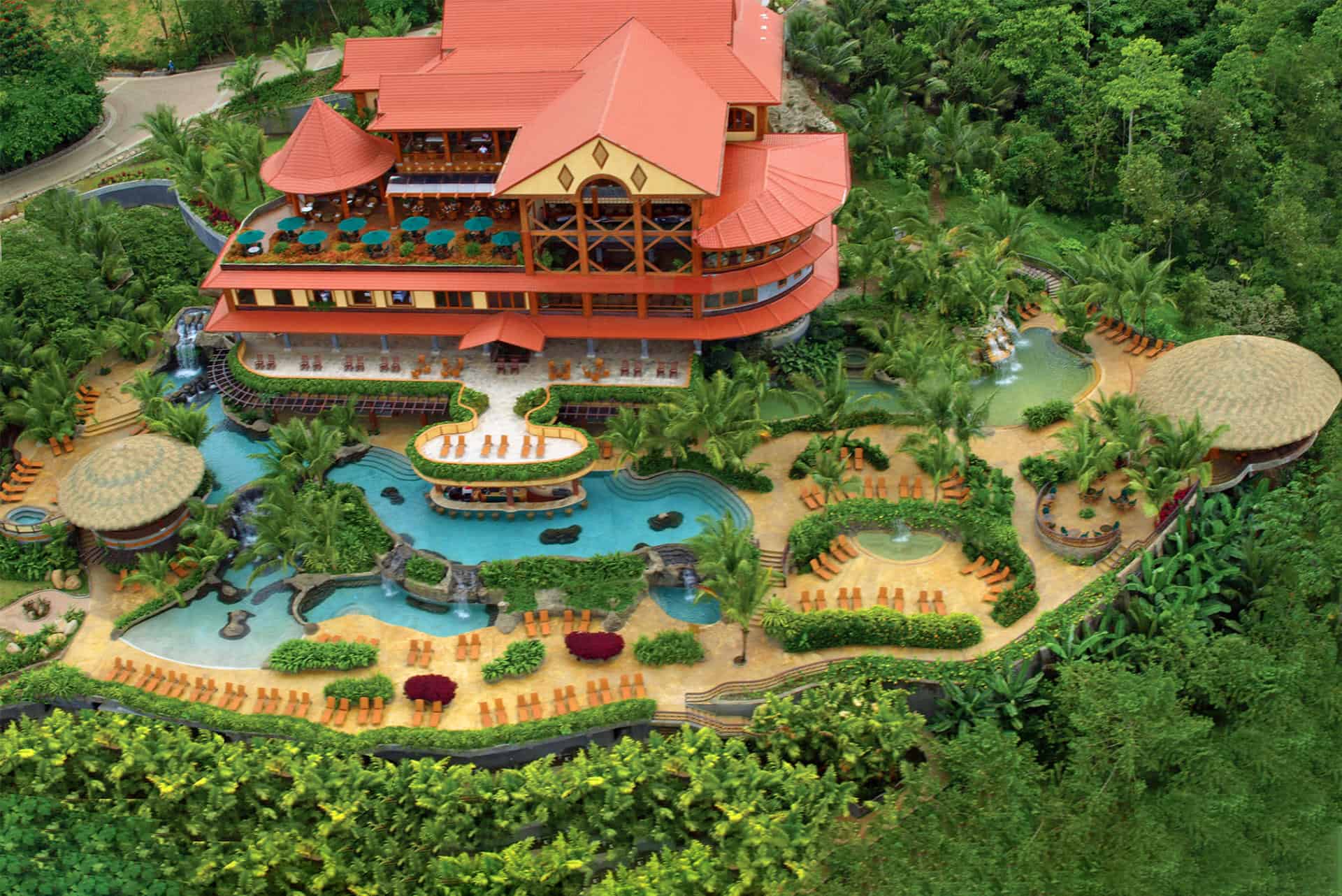 If you have some free time, here are some activities that I would recommend trying out:
Psst.. want more ideas?! Be sure to check out my guide on all the things to do in La Fortuna!
Day 6: Drive to Las Catalinas
Time to leave the jungle and head to the beautiful coast! Everyone we told that we were going to Las Catalinas said it is the most beautiful area and hidden from the tourists still.. and they were right!
This gorgeous coastal town is extremely walkable with cobblestone streets, adorable cafes with swings as seats, black sand beach with a private cove, and scenic walking trails. This place is like out of a postcard!
The drive from La Fortuna to Las Catalinas is roughly 3.5 hours, depending on traffic. It's definitely not a fun ride, but that's the only way to get to the coast. We hired a driver to drive us so we could relax and just read or listen to podcasts on our drive. Like I mentioned above, driving in Costa Rica takes a lot of focus and is for experienced drivers. And when I say experienced drivers, I mean being able to drive in extremely heavy rains and being able to change a tire in case of an emergency!
I stayed at the beautiful Santarena Hotel right in the heart of Las Catalinas. It was walking distance to all the restaurants, the black sand beach, and had a rooftop pool with an incredible view of the cove! I absolutely adored this quaint little Costa Rican town that was very hidden from all the tourists. Click here to check out their room prices!
Once you arrive in Las Catalinas, I would head to The Beach Club Restaurant to enjoy the infinity pool, grab some food, and watch the sunset.
TIP: Keep a look at the trees in front of the beach club, we saw huge families of monkeys here a few times during our stay! The babies were unbelievably cute!!
Day 7: Walking Trail, Black sand beach, explore the town. Dinner at fancy spot on the hill.
Yesterday was a long travel day, so you know what that means… time for a relaxing day!! Like I said before, Las Catalinas is extremely walkable and a peaceful little town. I would recommend exploring the walking trails, heading down to the black sand beach, go swimming at the Santarena Hotel's rooftop pool, or schedule a spa day at one of the many spas in town!
If you want to schedule something fun to do, here are a few ideas near Las Catalinas…
For dinner time, time to head for a sunset dinner at the best spot in town, Sentido Norte! This beautiful restaurant is located right on top of a cliff overlooking the beautiful coast. To get there, just have your front desk call you a golf cart transfer to drop you off right at the entrance.
TIP: Make your reservation WELL in advance because this place books up fast!
Day 8: Day trip to Tamarindo
There are so many beautiful coastal towns in the area, one of the most well-known is the town of Tamarindo. This fun and lively beach town is filled with bars, restaurants, breweries, and clubs.. all along the beach strip!
The drive to Tamarindo drastically varies depending on the traffic. On a light traffic day or early morning, you can get there in 45 minutes. If you go mid-day or when there is traffic built up, the drive is closer to 1 hour – 1.5 hours. Either way… I think it is totally worth it!
If you can time it right, I would really try to catch a sunset in Tamarindo. The beach is gigantic and has one of the best sunsets I have ever seen!
Things to do in Tamarindo:
Day 9: Catamaran Snorkeling Cruise
You can't go to the coast of Costa Rica without heading out onto the water! Costa Rica has so many hidden coves, beaches, and marine life to explore.
There are TONS of catamaran cruises that take off on beaches around Las Catalinas where you can choose from a sunset cruise or a snorkeling cruise with open bar and food, or a mix of both!
This is the exact tour we went on where we got to sail along the coast, snorkel in a private cove, eat a full lunch and drink an open bar, and sail back during the sunset. It was the most magical day!
The cruise takes off at 2PM, so just relax in the morning, grab breakfast at the best spot in town: Pots & Bowls, and walk along the beach!
Day 10: Travel back to Liberia
The saddest day of the trip is here 🙁
I was not ready to leave Costa Rica.. the warm sunshine, constant baby monkey spotting's, and delicious fresh fruit made me seriously consider cancelling my return ticket home!
Like flying in, I would recommend flying out of Liberia airport. It is only about an hour away and the airport is very small and easy to navigate.
If you want to extend your trip in Costa Rica to visit another area or to just spend more time in one of these two areas, be sure to check the "bonus ideas" section below for more ideas! 🙂
Bonus Ideas to Extend your 10 Days in Costa Rica!
For me, there is a LOT of travel time and driving in between destinations. That is pretty exhausting in my opinion, so I felt like two major areas and two completely different versions of the country is a perfect way to spend 10 days in Costa Rica. If you are a go-getter and want to see more OR if you are going to stay longer in Costa Rica, then this is what I would recommend…
You can head down the coast to visit Manuel Antonio National Park. The driver from Las Catalinas to Manuel Antonio is roughly 5.5 hours. This national park is home to tons of wildlife, white sand beaches, and lush jungle. If you do this route, I would recommend flying in / out of the San Jose Airport instead!
If I were to go back and visit Manual Antonio National Park, I would've followed this guide by one of my favorite fellow travel bloggers! 🙂
Best Time of Year to go to Costa Rica
The best time of year to go to Costa Rica is easily the winter season when the rain is minimal, humidity is lowest, and you get the most sunshine days! Costa Rica is extremely close to the equator and is tropical and warm year round.
For reference, I traveled to Costa Rica end of November / beginning of December, which is the start of the cooler season and it was PERFECT!!
Not only was the weather perfect, but the prices were also a lot less if you go on the shoulder season.
---
Okay, that's a wrap! I hope you LOVED this 10 days in Costa Rica itinerary and it helps you plan the trip of your dreams!!
Costa Rica was on my bucket list for way too long and it was bittersweet to check it off my bucket list. Being from the desert in Las Vegas, going to the jungle was pretty much the polar-opposite of the scenery I am used to!
Thanks so much for stopping by!
Like this guide? Pin it here!